Youri Zoon in Japan
I asked team manager of SLINGSHOT Mira Kwon to send International team rider to show
latest trick for Japanese people. At first Len10 supposed to come but he canceled because
Japan is not windy.
Before hand I asked Youri Zoon too. Because , even he is 2 years younger than Ruben Len10 he won 2 times at PKRA and over all 3rd place even though he didn't attend 2 first and second stop. He seems he had to have examination of high school.
We could have changed his fright schedule because we have to change his name. His real name
on the passport was "Marius Leenert Zoon". But it wasn't changed to Narita as final destination. He had to wait 7 hours at Narita(Tokyo) then he arrived to Nagoya A.P. It was 21hours of travel from his home.
2006 Oct27th
He sent e-mail to me at Narita which makes me relieved. If you have read about "Mark Doyle in Japan" article you'll understand how I was worried. Because, Mark wasn't on the air plane. Youri is great!!
Always, It's easy to catch up kiteboarder at the airport because they always have big board
bags.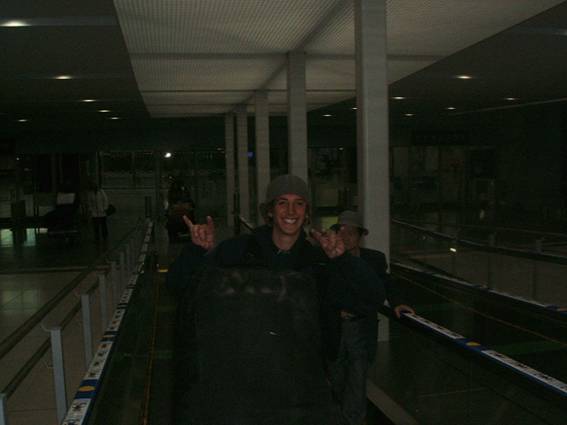 We drove back to near by Narita A.P. It was lucky for me and it was unlucky for Youri because I didn't have to drive alone and Youri had to wait more than 7 hours at Narita. We drove 3 hours to Ashigara Service Area which has hotel in the pay road. I like this place because you can see very clean Mt.Fuji just near by. Unfortunately Youri couldn't see because next morning was cloudy.
We drove 3 hours to Kjyukuri Hirasato beach Chiba Pref. it was kiteboarding competition but no wind 2 days. Youri shoed beach tricks first day. We had party first nigh at Ted's shop. I found Youri likes Hainecken beer. In Japan beer is allowed to drink after 20 years old. He was 4 years over early. He is OK to drink in Holland he said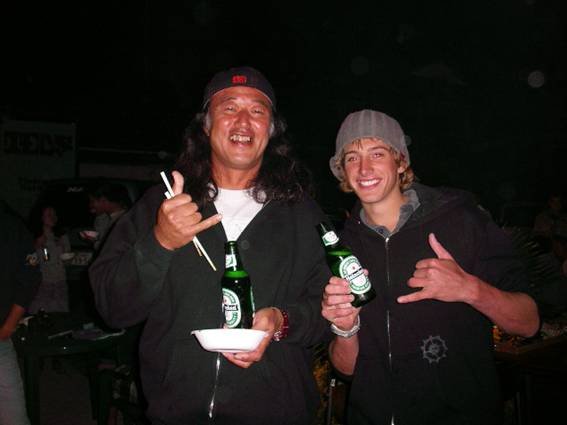 That night he slept on Japanese room which has Tatami and Futon on the floor. He though he had to sleep on the floor which wasn't realy true because American Futon has Tatami underneath which is makes bed.Japanese traditional style construction is totally the same. He seems he was a little bit shocked.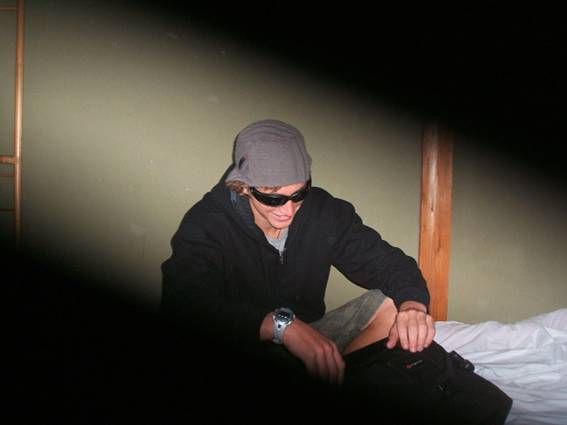 We moved to Inage Chiba last day after cancellation of the competition. We had real Japanese food at "Izakaya" which is restaurant you can order many kinds of food and drinks. Youri was very happy then.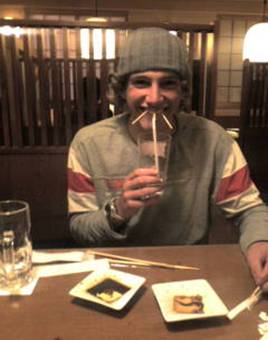 Next day Oct.30th
We went to Motosuka Beach of Kujyukuri . We ride with Kanekotti(Slingshot Japan team and Real kite shop manager) and customers. Wind was good for Fuel15-17.Choppy wave.
Youri showed all tricks on the water and also showed us on the land. Kanekotti was keep asking about slim chance and Youri explained very well. It's hard to keep emotional tension as high level and running shop. Kanekotti got passion again. He took Yuri's beach tricks on video. Here is the link http://f.flvmaker.com/mc.php?id=iIxcPpX4__GKUTAF6Eq.PMqehLcwBpXFjEYGJBYuJLOSEhRXPKHlXbvu73Ci8AqIZgVPT3ckZpl/W2jcCBH7hzs this is movie #1.Others are from here. You have to suggest Japanese a little bit.
 http://www.realkite.com/news.htm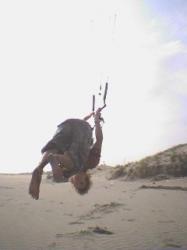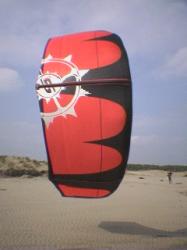 Youri bought Fire works at convenient store which is located near by the beach. It seems fire works is hard to buy in Holland. He bought them happily but one of them was mosiquito coil. He was disappointed.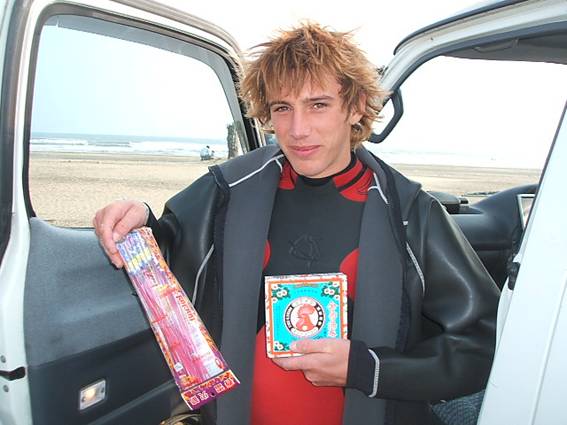 Finally we could ride at here after 3 days of no riding. We went to "Yakiniku" which is Japanese BBQ with Real Kite customers.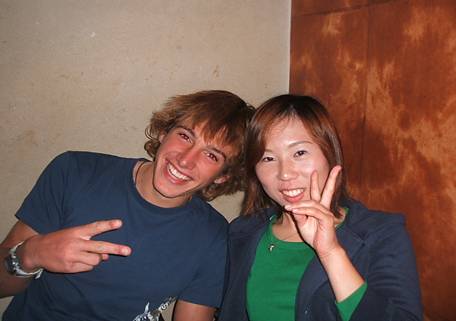 Then we went to Karaoke. We are all happy because we could ride.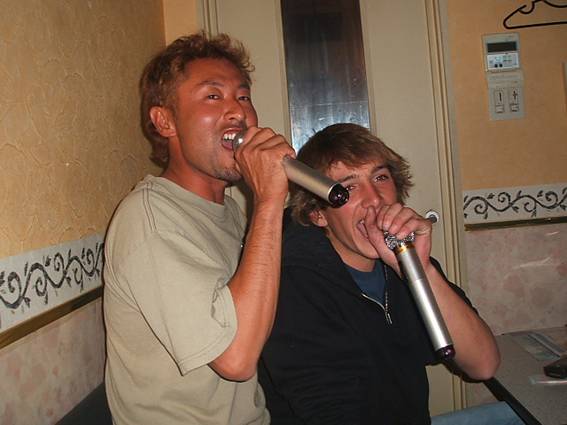 Sing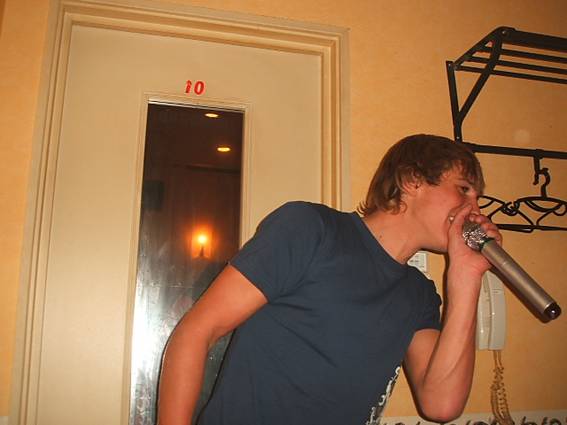 And more songs. Japanese Karaoke doesn't need to sing in front of audience like rest of world is doing. We rent room which is good for number of friends. Every body sung a lot, maybe Youri song at least 20 songs. Original songs are kind of hard to figure out from his singing any way. We sung hard until 2 o'clock. Youri puked a little bit at the hotel room because it was first day of Sake drinking. Many people have bad hung over experience by Sake. Youri learned a little of Japanese culture.
Next morning, we had any appointment and no wind report from weather focus.Nov We laid back and done writing send e-mail practiced Japanese "Ojigi" which is instead of shake hand people say hallow each other by this.
First step : Stand straight and see the person you make bow(your both hand should be front of your legs.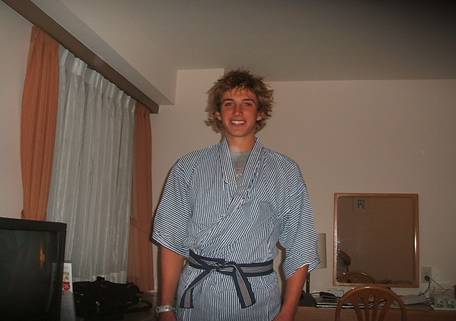 Second step: Bow (this is very light version for regular usage)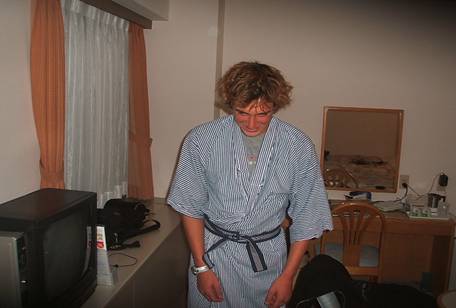 Bow deeper(for more respect)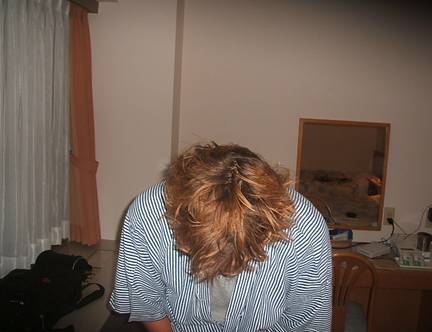 Don't join perm together when you bow. You are not a monk. People are mixed up with Vietnam or Thailand cultures. They deeply believe Buddhism. Most of Japanese not.
We went to game center at Chiba after Sushi dinner. Youri enjoyed some games.
Here is one movie Kannekotti beat Yori by car driving game.
http://lesailes.blogzine.jp/kiteboard/files/kinekotti_youribattle.3gp
Next Day(Nov.1st) we went to Futtui where is located very east of Tokyo bay. We have done demo for Sky Angel and Universal kite. He showed many tricks for audience even make upwind riding on sitting Glide.
http://lesailes.blogzine.jp/kiteboard/files/glidesitting.AVI
more tricks at there
http://lesailes.blogzine.jp/kiteboard/files/DSCF1553.AVI
http://lesailes.blogzine.jp/kiteboard/files/kitelooppass.AVI
After this demo we moved to Miura which is other side of Tokyo bay. We drove "Umihotaru" which is big bridge thorough middle of Tokyo bay and change to Tunnel. Youri saw beautiful sunset.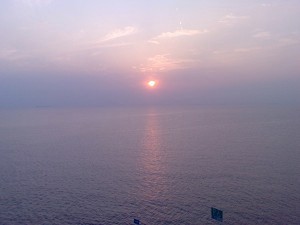 I'm organizing next competition Miura Cup.
Nov.2nd we spent all day for set up buoies for kitecross course racing. At this race, All competitior make beach start then round as this picture. I also ride at there to check the course. Wind was 4-7m/s.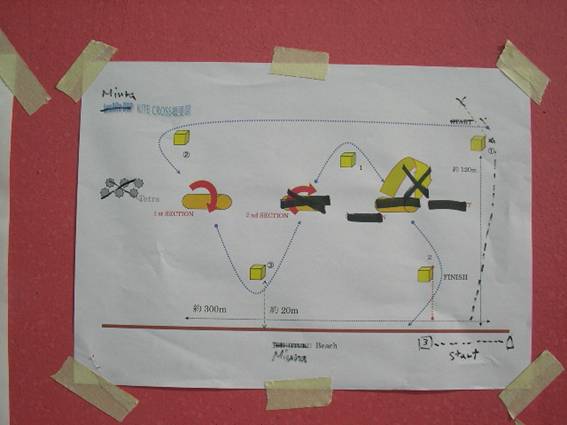 We also prepared for freestyle voting paper. All competitor has one point for vote and 3 judges have 10 point for each. This method will avoid organized votes.
We went to dinner with Long Island owner Nagashima-san(middle of picture) he will help me to organize competition from tomorrow also competition area is in front of his shop.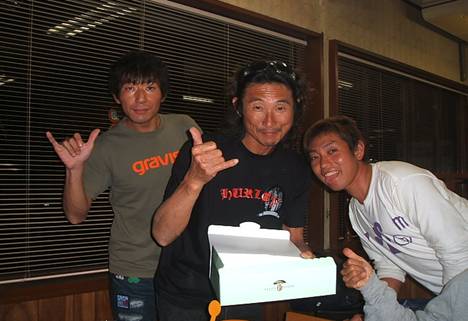 First day of competition was 1 hour session. All competitors made battle in very light condition. Many competitors had to use Machine and Glide to win. After the first vote Youri was First, Second Tomaru-kun and 3rd Kanekotti.
People are seems pretty exhausted.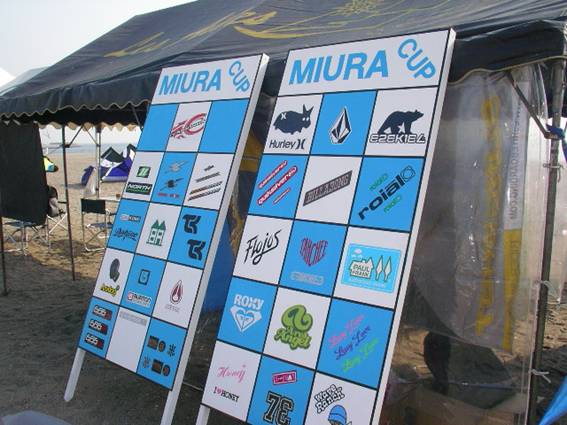 This night we made little party. Youri looks happy with girls. Right side is new Slingshot International team Kazu-chan.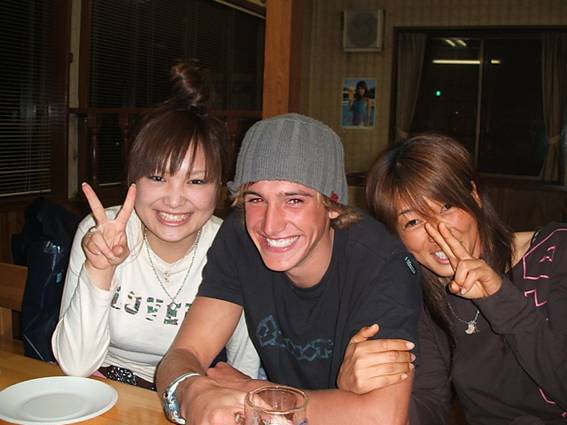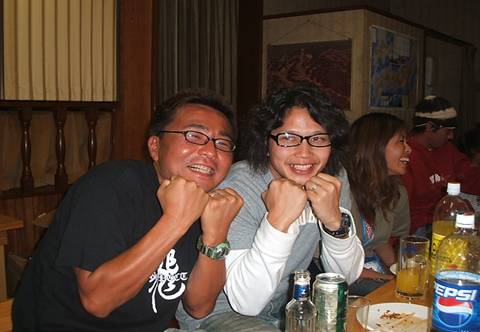 Slingshot national rider Tomaru-kun & Kanekotti.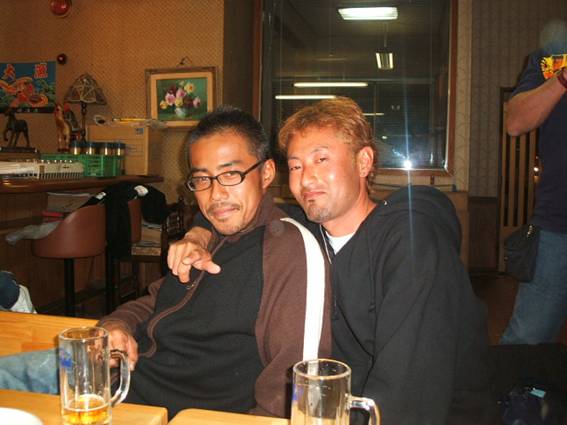 Next day I set up riders meeting 30min. earlier because wind seems to be strong early in the morning.
I left all course bouies as wind is suppose to blow even Nagasima-san's jet-ski at the beach for quick organization. Nagashima-san doesn't seem to have good sleep this night.
We slept a little earlier for next day course racing. If it's done, first time in Japan.
Next morning(Nov.4th). Wind was perfect direction and wind is blowing about 5m/s. Bouies & Jet-ski wasn't lost. After riders meeting, I raised Z-flag. 9 o'clock started at once from beach start line.
2 competitors went windward of finish bouy. They had to go downwind side. Those two competitors were Youri and Kazu-chan.
Youri round all bouy then crossed finishing line but no fog horn sound because Youri was disqualified.
After his illusion finish Kanekotti crossed the finishing line. No other competitor could come back in 15 min. All other competitors were DNF. Wind was dropped down. AP flag raised.
Youri was disappointed for while.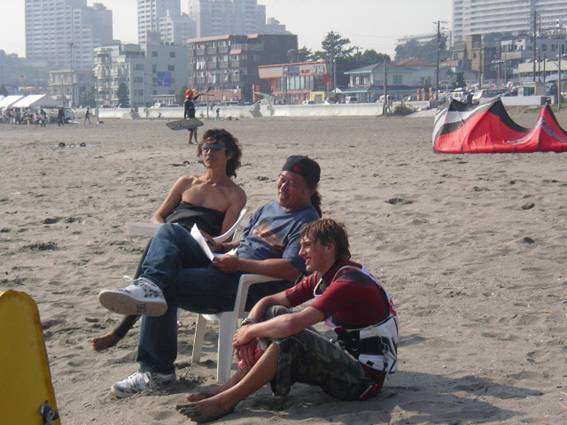 During waiting for wind we have done explanation of new kites and boards at the beach by most of all bland importers
Wind started again from one shore but still need to use biggest kite and boards which mean is Glide and Machine. I raised Blue flag for 30 min. heat.
It was very high revel sessions 4 top guys did KGB,FRONT MOVE, SLIM CHANCE by using huge gears. Audience were very much surprised.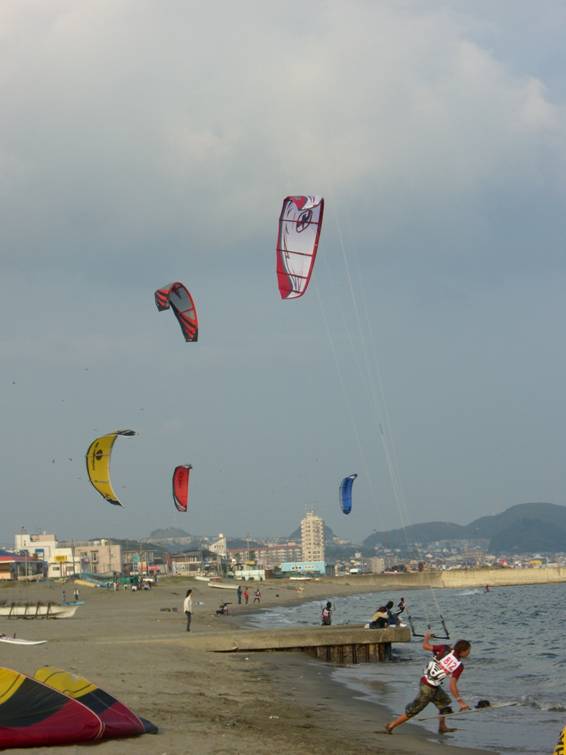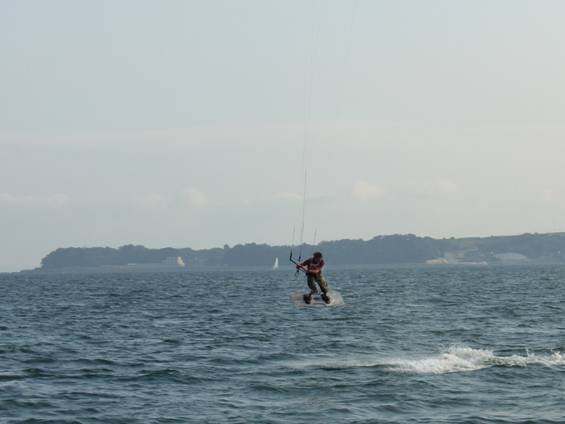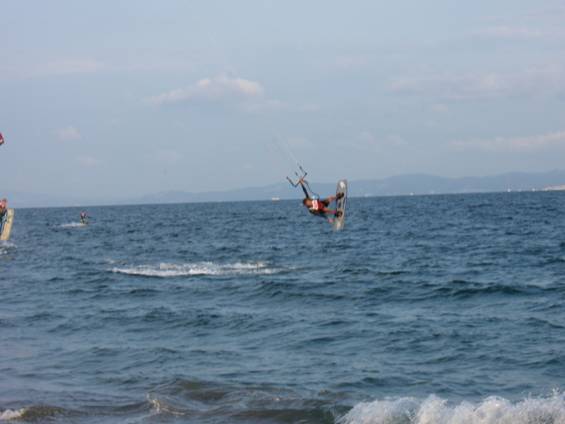 After this heat we vote again and calculated Youri won this heat but for overall result was.
1st Daisuke Kaneko
2nd Youri Zoon
3rd Shiniti Tomaru
4th Takeru Suzuki
5th Yosio Suzuki
6th Tomoko Suzuki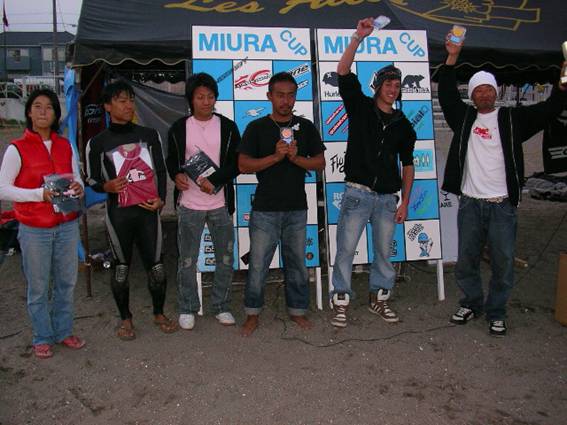 Women
1st Kazumi Nangou
2nd Eri Yagisawa
3rd Tomoko Suzuki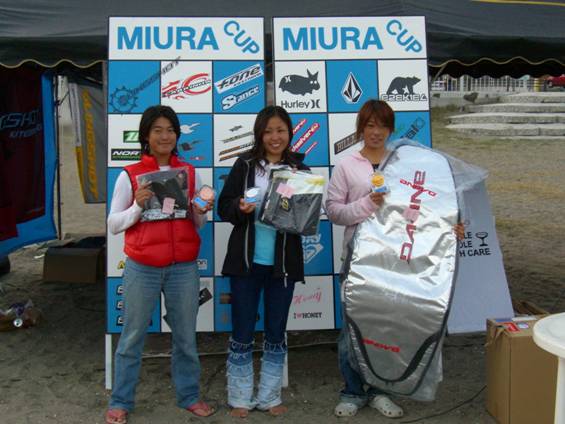 Best effort
Hiroshi Oda
Kanekotti celebrate his win this nigh with all other people.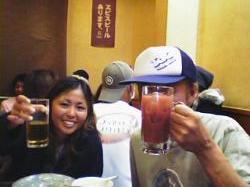 Nov.5th(San.) was demo day for all bland but unfortunately no wind as usual. People tested kites by using balloon board.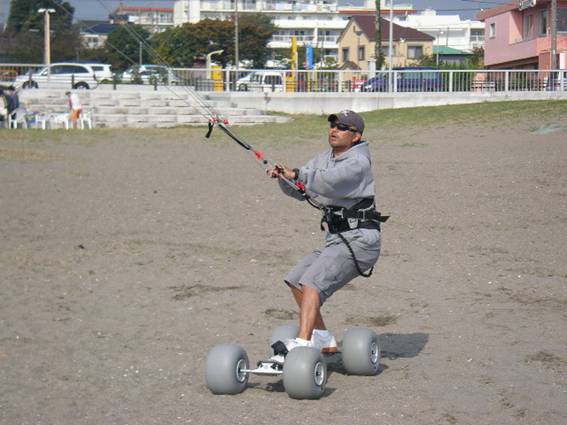 After we finished those demos a little bit earlier, we packed up all tents, bouies and everything.
We drove down to Nagoya 5 hours because Youri's fright is early in the morning.
We had traffic jam at pay road. Youri's socks start to smell. We put his sock on roof luck.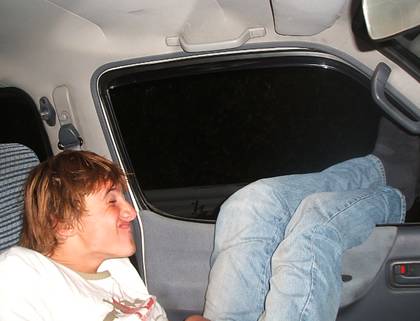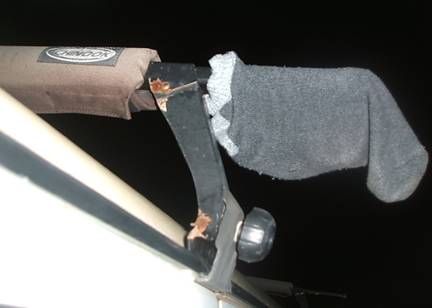 It's gone somewhere after we drove fast.
Youri left Japan early in the morning. And I came back to my town.
I was impressed by this new young international team rider that he ride for us in very light conditions even he haven't ride. He never used bigger than FUEL13. He never ride Glide. He showed all his skills in front of Japanese people as very high revel. Also he showed tricks on the beach by using kite. Many famous kiteboarders come to Japan and they don't do anything because wind is light and saying I can't show because wind is light. Other thing I have surprised is he wrote Kanekotti name in Kanji(Chinese character) when he vote at competition. It was amazing. He said that he copied his name which is written on notice board. I respect this 16 years old new talent. You have glorious future right there.
Thank you Youri