Bertrand Fleury told what is" The Man's riding should be"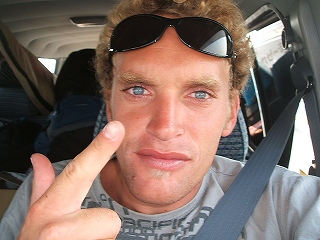 I announced to the Real kite forum that Bertrand Fleury is coming to Japan and first response was "What about Tuva?"
The Man arrived to Japan on July 11th to Nagoya A.P.. We spent One week to attend competition and ride with Japanese kiteboarders to show what is the real Man's kiteboarding is.
We had secret mission from Mira Kwon(SS Marketing Director)to take '07 Model photos. If those photos on web I'll be killed by her. There for we tried to find secret locations.
On the way back to my shop, I toed my 5800ccV8 toeing boat by trailer. This boat is well tuned for coming day by my friend Suzuki-kun. Just after I started to drive from his car shop I hit to the entrance curb. Tier started to make funny noise then burst middle of the road. Many of neighbors came out from their house because of big bust noise. The man was a little surprised. Anyway we fixed them in an hour.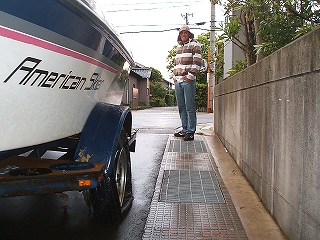 First night we ate "Yakitori" for dinner to get more energy for sessions for tomorrow.
Unfortunately Taki the photographer had hard time to drive through Tokyo area and took 12 hors drive to come to our secret area. Wind was died when he arrive.
We had Sushi for energy for tomorrow. The man seems had best Tuna Sushi in his life.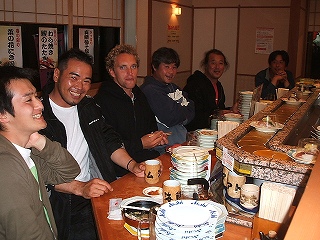 May 26th.The mission day. We took boat because it was off shore condition and took a lot of photos of '07 model. I can show you just two shot without kite otherwise Mira will upset and I'll lose my face.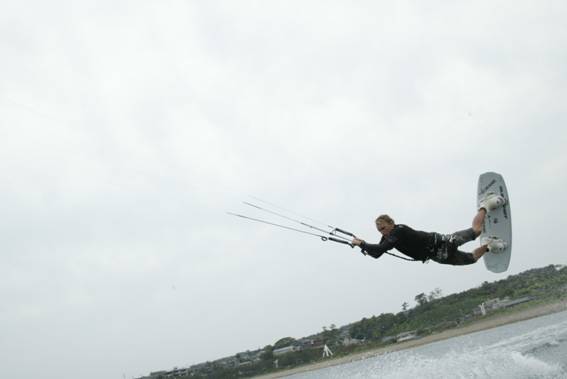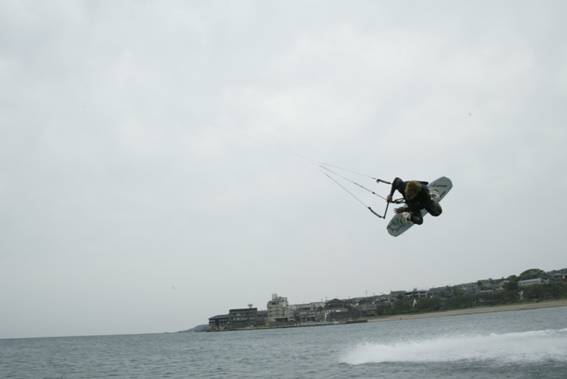 Same day we drove 6 hours to north for attending the competition "The Kite Battle" which I was organizing. I took unique rules. Which is after 2 hours session, then result was voted by competitors and 3 judges. Each competitor has one point and Judges have 10 points. For pro class, after choose 8 top guys then make tournament. That night loco riders brought us to very fancy Japanese restaurant. The man enjoyed Poisson Cru (row fish) very much.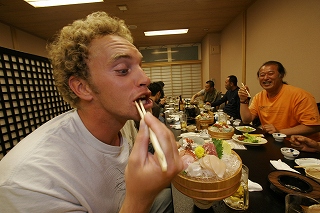 Originally this competition was started as IMCO windsurfing competition 12 years. Now city decided to cancel windsurf competition and took kiteboarding as world movement do. There were over 200 volunteers and 90,000 visitors. Those were not only Kiteboarding competitions but also Flee market, Beach valley ball, Dance sessions etc..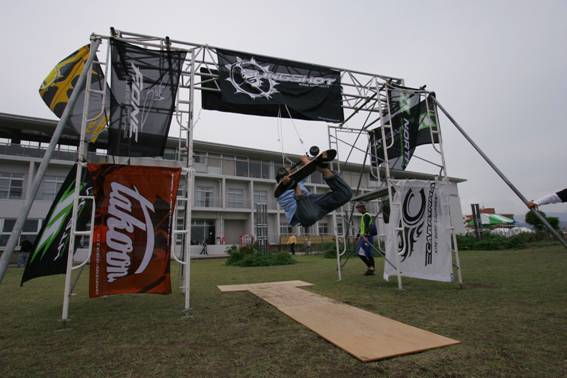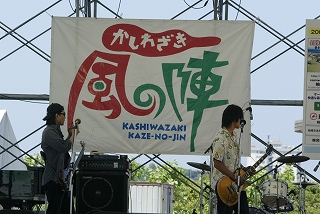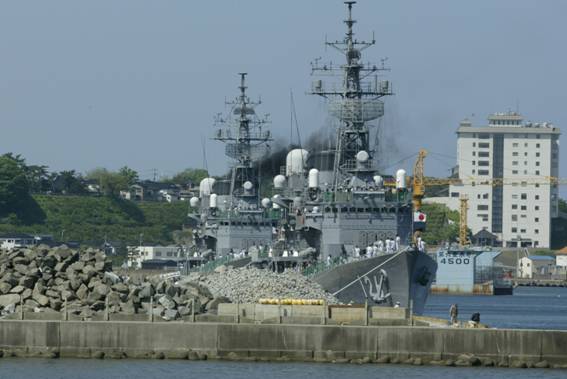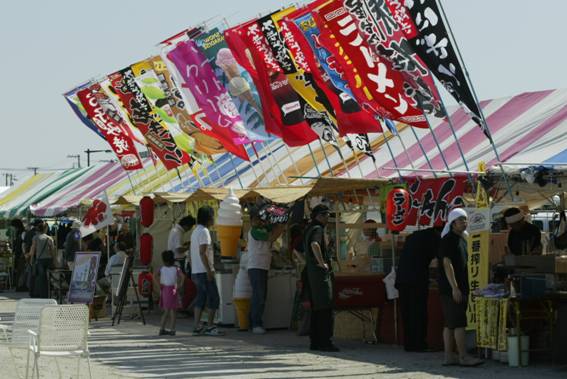 1st day(27th) Totally off shore condition we decided to do competition to start Pro class free session for one hour. We prepared 3 rescue boats. We could prepare 2 more boat because the city bought them for IMCO already. Wind was gusty but Slingshot kites prove how '06 Fuel is strong for off shore gusty conditions.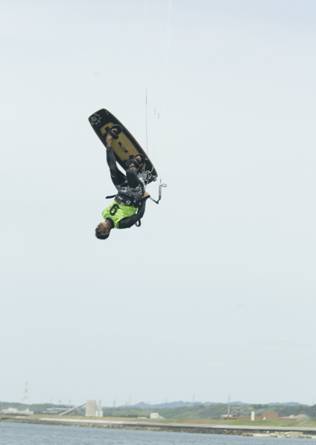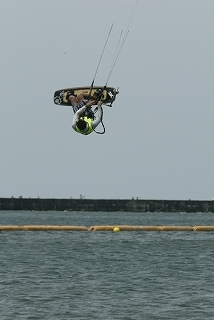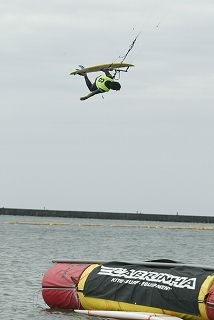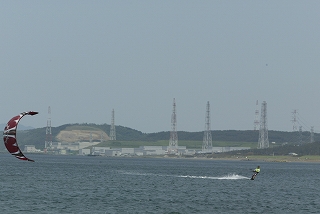 1st place Shinniti Tomaru(Slingshot)
2nd place Daisuk Kaneko(Slingshot)
3rd place Hironobu Ikeda(NKB) at this point.
The man showed real kiteboarding to audience. He S-bent and flew over Oil fence too.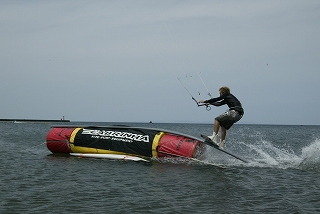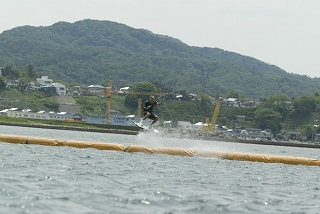 Most of Pro guys came back to the beach. We continued Amateur class 30min.sessions.I asked to all competitors that they want to go out in this off shore conditions or shall we stop it. Then they wanted enthusiastically. Most of all competitors showed their best tricks but none of them could come back to the beach.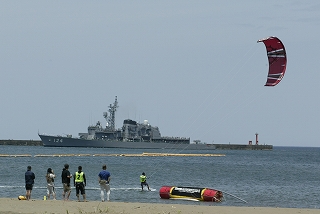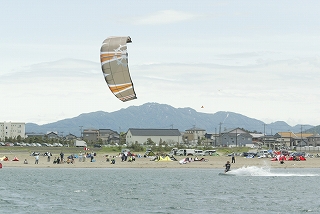 Final session was Veteran class heat. One is Edamura-san and the other one is me. Both are judges too. We've done 15min heat then other competitor judges us. I lost as competition judging but I came back to the beach as ride. I'm pretty much stubborn.
This evening we had very tasty BBQ at half outside restaurant. I had another mission which is talk about next year of this event and get more prize money with politicians.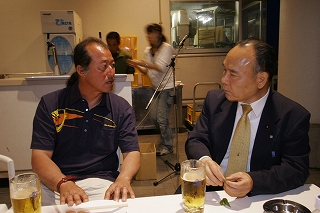 The man had been very patient for listening political conversations.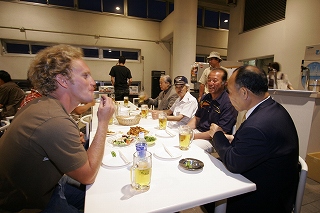 We went out to town lately.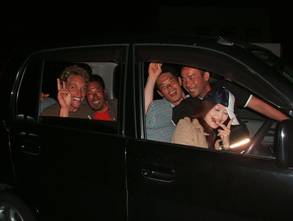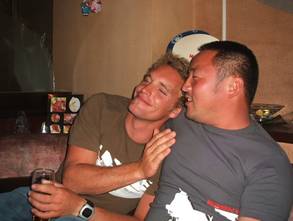 The man and a Coast-guard kiteboarder
Next day (28th).Wind was blowing hard from 5 o'clock in the morning. It was totally side shore and 25 knots of wind but cloud was very low. Also it had dangerously of thunder. The man told us that in same type of condition in Germany PKRA. One competitor was past away at that event. We decided not to do any competition inside of port as the event organizing side requested. We wait 2 low pressure pass over then we started Pro Class tournament but as soon as cloud gone wind died.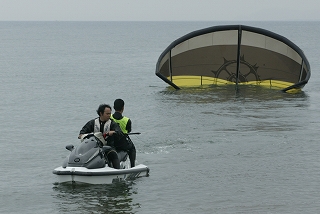 Final result wasn't changed from 1st day.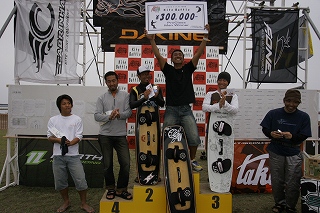 Same day after the Kite Battle we drove 5 hours to Chiba area with Kaneko-kun and Tomaru-kun. We started to celebrate their winning at Yakiniku(Japanese BBQ).Tomaru-kun bought all of our dinner by his prize money.
June 29th.We ride at Motosuka beach which is located at Chiba. Many of kiteboarders of Real Kite took day off and tried to see The man's riding. Unfortunately he broke wake style board at here.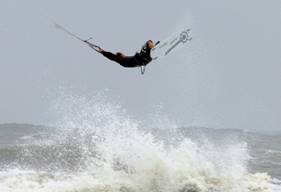 The man said during "Auto Focus" taking they broke 21 boards. Wind was very much on shore at this beach and the waves wasn't the wave. It was like the bumps. We and Taki (the photographer) decided to move south to take more shots for '07 model kite at secret location. We took a lot of good photos.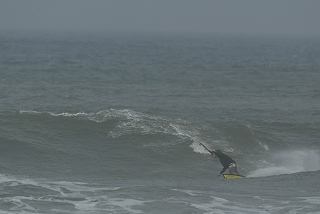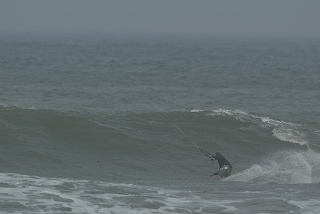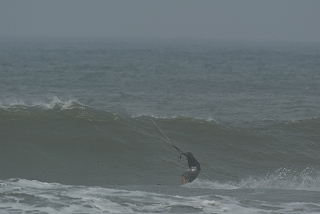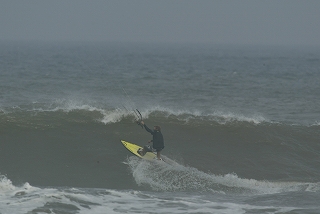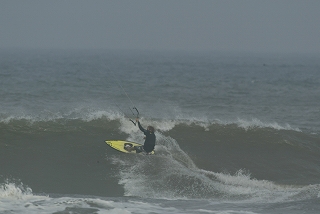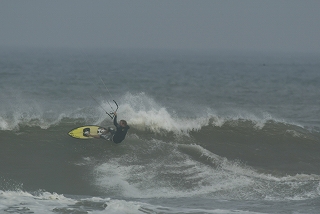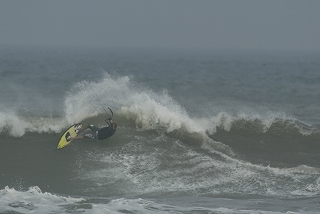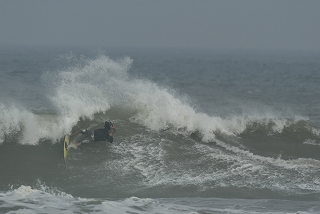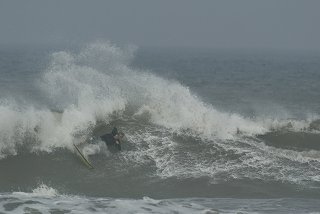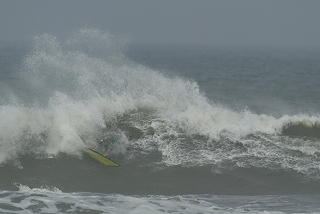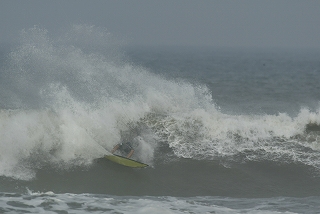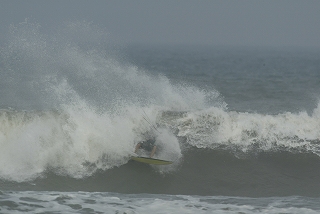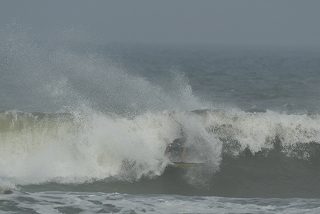 After those photo sessions we drove down to Long island shop in front of Miura beach. We had demo day at there but wind didn't blow as we expected. I just showed how heavy man can ride on 6 knots of wind with Machine 20.5 and Glide. The man took a nap.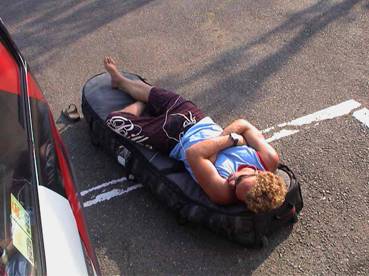 He explained "Fake Blind" and "Real Blind"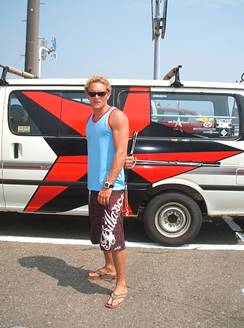 Real Blind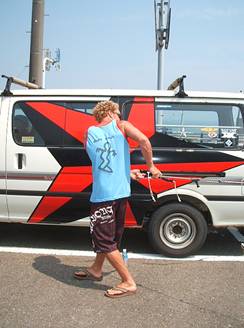 Fake Blind
The man explained when people do back roll to blind. People extend their arm when they land by blind. Which is fake blind also he said.
We moved to Hamamatu that evening and prepared for next day session.
31st final day, Wind celebrate us 16 knots to 18 knots of wind. The man didn't have his wake style board because it was broken. He demo by un-strapped SRT at first then he took a board from skim boarders whom at the beach. He showed all kinds of un-strapped skills.
A group of people who came from Biwa-lake was there. They didn't know The man was there and they used Best Kite. But they own all sizes of Fuel. They were preached by the man.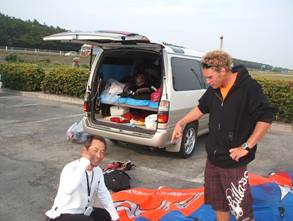 More people came to Maisaka beach even my fried Suzuki-kun drove 5 hours to here. He had a lot of influence from The man.
No leash, No grab handle, No donkey dick, No one line and no stopper balls. Wide stance
Suzuki-kun got almost private lessons from The man and he got muscular pain everywhere on his drove back to his town. Here is the committed photos after The man's lecture.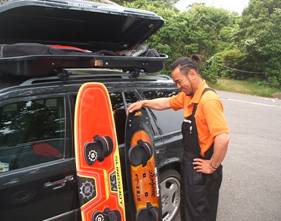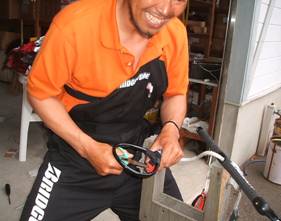 We had party again after moved to Nagoya area with Air Junk members who were at Maisaka-beach too. He start to be able to eat Row beef leaver.
The man flew to France next day early in the morning where Tuva is waiting him.
I had his souvenir which is French wine and "foie gras". Those were very good.
Bertrand has his own style and he was born in very mannered family for sure. Everybody is waiting him to come back to Japan again.
Words by Seigo Akado
Photos by Taki and Seigo